Basin Guide
Above Counter 
Above-Counter basins are the showstoppers of basin design. Available in a range of shapes, colours and finishes, they maximise storage inside a vanity cabinet as the basin does not protrude below the benchtop. Above-Counter basins pair best with wall taps or extended basin mixers due to their height above the benchtop. Make sure to consider the location of wall tapware when roughing in to avoid costly plumbing mistakes.
Semi-Inset 
Semi-Inset basins are visually interesting to look at because part of the basin is hidden in the cabinet, and part of it protrudes above the benchtop. They are great for floor mount vanities to keep the height of the basin to a minimum while achieving an 'Above-Counter' look. Some Semi-Inset basins include an overflow, while some others include a built-in tap landing to contain splashing and water from wet hands turning off taps. Always consider your tapware selection when using a Semi-Inset basin to ensure the height and reach of the tap matches the height of the basin.
Inset 
Create a seamless look between basin and benchtop with an Inset basin. Inset basins sit just above the benchtop, with most of the basin hidden in the cabinet. A more subtle option than an Above-Counter or Semi-Inset basin, they create an effortless flow from vanity top to basin. Inset basins work well with many tapware styles, including both basin mixers and wall taps. Available in rounded and square shapes, matte and gloss finishes, Inset Basins are a modern take on the traditional style of an Under-Counter sink.
Under-Counter
Under-Counter basins allow you to achieve a minimalist look with a clean, uninterrupted benchtop. A classic choice, Under-Counter basins are very easy to clean, just wipe along the bench and into the basin. Most Under-Counter basins come with an overflow. Consider tapware selection with your Under-Counter basin – basin mixers should have an extended reach to clear the gap between the tap hole and edge of the basin. Be mindful of the lost storage space as an Under-Counter basin will take up more room in the cabinet than other basin alternatives. 
Semi-Recessed 
Semi-Recessed basins are perfect for small bathrooms and Ensuite bathrooms as the vanity cabinet is slimmer than the basin. While the slim cabinet allows extra floor space in the bathroom, a Semi-Recessed basin protrudes out from the cabinet, meaning that you don't have to sacrifice on basin size. Consider using an Above-Counter basin with a semi-recessed application to achieve a more modern look than a conventional Semi-Recessed basin.
Small Spaces
We offer a range of Small Spaces basins, including wall hung solutions, above counter vessels and under-counter applications. Our collection is both space saving and functional, perfect for when space is very limited.
Wall Hung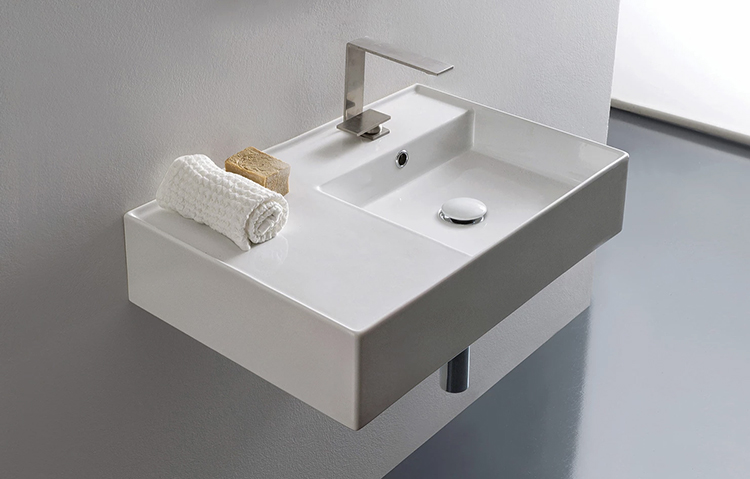 Create the illusion of space with a wall hung basin. Perfect for commercial applications or where storage is not required, wall basins can be a cost-effective vanity solution. Wall basins are available with a range of options, including a large basin, extra bench space, or small space solutions. Make a feature of your plumbing with a bottle trap and consider pairing with a mirrored cabinet or floating cabinet below the basin for additional storage.